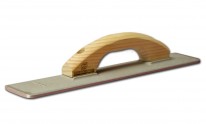 Give your concrete countertop the perfect finish with Concrete Countertop Solutions' concrete finishing tools. With their magnesium and wooden floats, screeds and steel trowels, you'll have everything you need to craft stunning diy concrete countertops.
Magnesium floats are a light float and the most popular choice among professionals. Magnesium smooths the surface of fresh concrete and opens the pores for proper evaporation without pulling the surface.
Wood floats are an affordable float option that create a rougher surface profile, wood floats are also useful for applying shake-on color hardeners, which need to be worked into the top surface of the slab.
For more info on concrete countertop tools, concrete countertop supplies and countertop edge forms, visit Concrete Countertop Solutions.