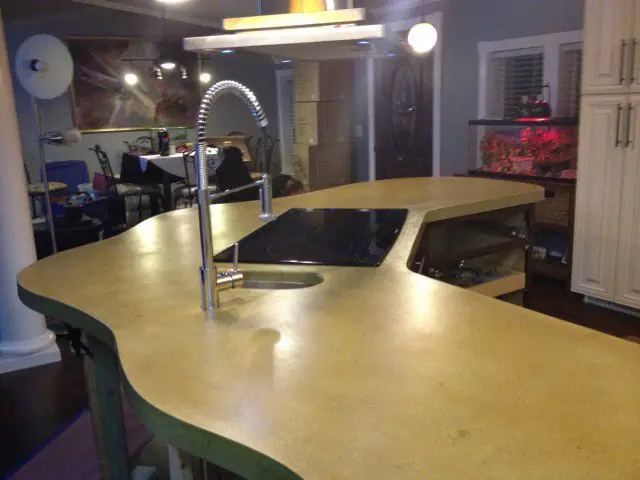 Concrete countertop mix is a product manufactured and sold to contractors, installers, and do-it-yourselfers. Although some people make their own mixes, manufactured mixes are easier to use and provide a foolproof outcome.
There are different types of mixes specially formulated for countertops, including:
Polymer-based mixes that flow for easy pouring
All-sand mixes that are stiff and hand-packed
Aggregate-based mixes used for cast-in-place and vibration
GFRC mixes that contain fine sand, cement, acrylic polymer, water, alkali-resistant glass fibers, and other admixtures
Regardless of the type of mix that you choose, always remember to follow the manufacturer's instructions exactly as stated. This ensures a consistent and favorable result.
Choosing the Best Product
Because each concrete countertop mix is slightly different, it is important to choose a reputable brand. You need to determine the yield of the mix per package so that the right amount of product is purchased for consistent results. In addition, be sure you get a copy of the technical datasheet that will provide details about the mixing procedure and compressive strength, as well as setting and curing times.
When choosing a mix for concrete countertops, you want something that has a low water-cement ratio. That will help prevent problems like cracking. In addition, the mix will be easier to work with, it will offer the correct compressive strength, and it will produce gorgeous countertops.
You also need to decide if you want any special effects or color incorporated in concrete countertop mix. For personalized countertops, optional modifiers can be added. As an example, a mix can be enhanced with decorative aggregates, metal shavings, recycled glass, or some other embedment.
There are also high-performance mixes, such as from Z Counterform, with high strengths of 5,500 psi or greater. These mixes offer a number of benefits, including little if any cracking, much faster set time, lighter weight, greater workability, and thinner slabs. In simple terms, you want a mix that offers high early strength so that you can process and finish quicker; high flexural strength, which resists cracking; and low shrinkage potential to minimize the risk of curling.
As a final note, regardless of which mix you choose, make sure that it is formulated specifically for countertops. While sidewalks and pathways are slabs on grade, countertops are usually long and slender beams that are very different structurally. Of course, countertops also have unique requirements aesthetically speaking, so it is imperative that you go with a trusted brand for a concrete countertop mix.