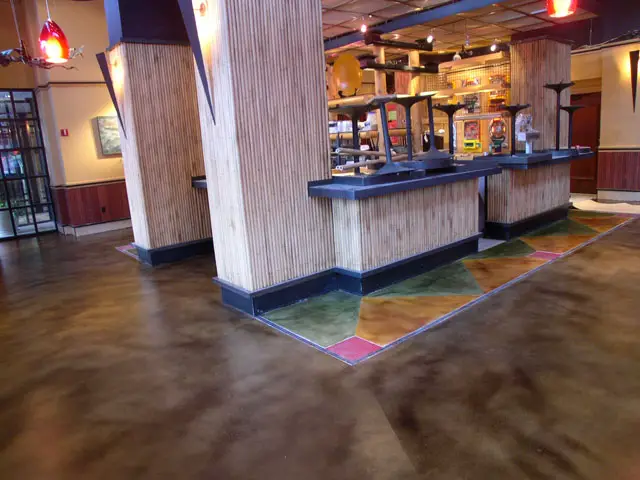 Concrete Colors
Concrete is often recognized as one of the most phenomenal available building materials in that it can be used in a variety of applications. It can be poured and placed in a variety of patterns and designs, in nearly any shape or size. It can acquire nearly any type of texture. Since the 1950s, it has also been available in a variety of colors to meet nearly any type of decorative requirement.
Residential home and commercial property concrete projects no longer need to be stuck with the traditional plain gray color. With blending and an artistic touch, concrete can be transformed into nearly any color. Manufacturers of concrete coloring have created extensive pallets of hues and shades. When installed by a creative concrete contractor, the decorative effects and coloring can be provided in a nearly endless array of colors.
Internal Coloring Admixtures
Probably the most popular technique when coloring concrete is using the wide array of integral color admixtures. Used as an effective solution for infusing concrete with color, these admixtures offer fade resistant, rich durable color to the fresh poured concrete. Professionals specializing in stamped concrete typically use integral coloring admixtures that produce a base color that can then be antiqued or accented with additional topical colors. These can be applied as a dye, stain, or pigmented release agent.
Concrete Stains
Staining concrete allows the contractor to achieve detail richness unlike any other available coloring medium. When applied properly, the stain will permeate deep into the surface of the concrete. Through infusion, it will create translucent, luminous shades and tones. Many of these products can be applied to mimic a variety of other materials including leather, wood, natural stone, and even slate or marble.
Color Hardener
Color hardener, or cement coloring, is available as a dry shake mix that provides durable results. Sold as a powder, this hardening mixture is applied by hand broadcasting over newly placed – yet to be completely finished – concrete. The process is completed with the trowel or a float. While integral pigments are blended into the entire batch of concrete, the color hardener is applied only to the upper surface layer just before the project is completed.
Most of the hardeners are offered as a blended variety of pigments, wetting agents, silica sand and Portland cement, in numerous available colors. When properly applied, the hardener offers significantly more durable wear resistance to the concrete surface, while providing a higher level of resistance to de-icing chemicals and moisture when compared to typical concrete.
Concrete Dyes
For the application that requires vibrant colors, concrete dyes are used by professional concrete contractors. The available colors offer rich bright solutions including cobalt blue, purple, orange, yellow and red. The dyes can easily be blended at the project site in both solvent-based and water-based options. In direct opposition with acid stains, color dyes do not chemically react with the concrete but simply penetrate tiny color particles into the concrete surface.
Not every coloring technique works for every type of concrete project due to exposure to certain conditions. In addition, there are usually specific limitations to the availability of colors and their intensity.