Sunlight and Smiles Fill a Most Unique, Brilliant Basement
A beautiful, functional basement is a luxury for many homeowners, but when you need sleeping quarters for a family of 13, it's a necessity. The Hill family of Suffield, Conn. is one such uniquely large family, and with an innovative new home, thanks to the Extreme Makeover: Home Edition show (EMHE) and Pecoy Signature Homes.
            A family big on love, the Hills were short on living space. With four children of their own at home, Bill and Catherine Hill had taken in seven nieces and nephews, caring for them in their four-bedroom ranch home. Someone always slept on the couch and they couldn't all eat together. Making matters more challenging, the Hill's home was damaged by fire years ago and hadn't been completely repaired. There was also leaky plumbing and standing water in the basement.
            One of the Hill daughters, no longer living at home, wrote to ABC's EMHE explaining the situation. After looking into the possibility, it became clear to producers that the Suffield community would embrace a project benefiting the Hills. EMHE, Pecoy Signature Homes and Suffield, with donated building materials and volunteer labor from thousands, would accomplish a once-unthinkable, now-routine mission – build a new home in just one week.
            "There were several challenges in designing this home," said project architect Jack Kemper of Kemper Associates Architects in nearby Farmington. "We needed to accommodate the family, keep the home to scale with the neighborhood, and make the house manageable for Bill and Catherine to keep. The kids are not youngsters and they'll start leaving soon, so we didn't want to build a 12 bedroom house."
Kemper also didn't want to put all the bedrooms on the second floor. The master suite was located on the first floor and the four girls were split between two second-floor bedrooms. The basement was the secret weapon that gave the family all the necessary sleeping quarters.
"There are seven bedroom 'alcoves' in the basement for the boys, clustered around a common area," Kemper explained. Each alcove has a sliding door, maximizing space, contributing to the basement's open feel and also allowing privacy.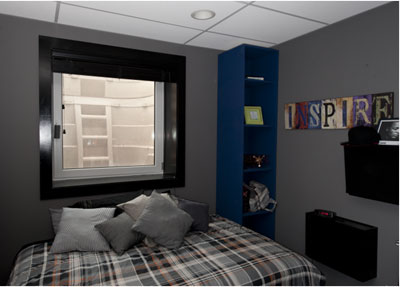 In order to meet building code requirements for basement egress routes – emergency escape routes in the event of fire – Wellcraft Egress Systems by The Tapco Group were used in each alcove. Under the International Residential Code (IRC), basement living areas, including each bedroom, require an emergency fire escape. IRC-compliant wells must provide at least 9 sq. ft. in horizontal dimension, which is enough space to readily allow a fully-equipped firefighter into and out of a basement.
The Hills' home uses Wellcraft's 2060 extendable-well model, with two optional 12" extensions that bring total well depth to a versatile 84". More typical installations average a depth of 60". This well is designed for egress windows up to 4' wide, which is the width of the boys' bedroom alcove windows. It has a required built-in ladder that is easy to use. While the wells deliver enhanced safety, they also brighten the basement with their clean design and ability to bring in the sun. Clear polycarbonate well covers allow sunlight in, while keeping debris and weather out and safely supporting up to 500 lbs.
            "The way we utilized that basement was incredible," says builder and project leader Kent Pecoy, president of Pecoy Signature Homes of Avon, Conn. "With the seven rooms for the boys and the central gathering area, the basement is really a remarkable space. You have this great entertainment area ringed by these neat dorm-style alcoves, individually decorated and furnished. With the window wells and the amount of natural light and fresh air coming in, it's not like being in a basement. Looking at it, you can kind of picture yourself as a grandparent and having your grandkids come over and hang out in a space like this.
            "Without the Wellcraft systems, we would not have been able to pull this project off. We would not have met the egress requirements or the lighting requirements," Pecoy added.
            'Cool' is a word often used to describe the basement. "It became a really lively space with a central TV and video game area," Kemper said. "There's also a locker-room bathroom for the boys. In the alcoves, each has a bed and a desk.
"The Wellcraft systems made a potentially unusable basement usable, comfortable and safe, and enabled this home. When we give presentations on this project, that's part of the discussion," Kemper added.
Neither Kemper nor Pecoy had previously worked with Wellcraft Egress Systems. More typical in the area Kemper explained, are cellar-door type basement exits. Pecoy has previously used multiple stairs to supply compliant egress or has built expensive stone-stepped stone wells. The functionality of the systems has since proven popular with people familiar with the Hill home.
"We've put in two Wellcraft systems for another family. They provided the additional living space, egress and light that the family wanted. We have another house coming up where it's also a consideration," Pecoy said.
"A number of general contractors involved on the Hill home remarked about how impressed they were with the product. I've also recommended Wellcraft to remodelers who haven't seen it. You run into that problem all the time in remodeling, trying to get light in so you can finish off a basement for homeowners," Pecoy added. The Wellcraft Egress Systems line accommodates window openings from less than 3′ wide all the way up to 5′ wide for maximum natural light. All Wellcraft wells are IRC code-compliant.
            The smaller footprint and innovative basement are among several keys to providing sustainability and efficiency for the Hill home. It also features energy-saving geothermal climate control. "We wanted to make it a more affordable house that they could zone separately with heating and air conditioning for when the boys leave," Kemper said. "This home is much bigger than the family's previous one, but it will actually be less expensive for them to heat and cool." Durability and low maintenance are also built in, such as with no-paint exterior products and materials with long warranties.
The Greek Revival/Federal-style home, in and of itself, was a massive building project. Along with the master suite, the first floor features a large kitchen, dining room and main living area, open to each other for a comfortable feel. The first and second floors total 3,200 sq. ft. with the basement adding another 1,900 sq. ft. While the lot is one acre in size, it's narrow, flat and has 15-ft. setbacks; all reasons why the functional basement was so critical.
            "The people from Extreme Makeover said it was one of the top three builds they've ever experienced in terms of the quality of the job, the quality of the people and just how smoothly everything went," Pecoy noted.
"I still lie awake at night," he admitted, "thinking 'we really did do that, didn't we.' It was the most difficult thing I've ever taken on. It was very intense, but we balanced it by having a good team and so many people coming together with a lot of great ideas."
            As the quarterback for the project, Pecoy has his project numbers memorized. There were 3,500 volunteers, including 85 drywallers, 56 concrete contractors, 58 electricians, 65 plumbers and 65 framers. He worked one 27-hour shift. His son even topped that with a 36-hour shift. Others worked all night until it was time for them to go to work. Large teams were led by captains and trucks rumbled in and out all day long. It was the most rewarding thing Pecoy has ever experienced.
            "It was kind of like an army going to battle. You form bonds and relationships very quickly," Pecoy explained. "Imagine 65 framers out there crawling all over this house, and those dozens of concrete guys. It was incredible. When you get this level of cooperation and you can make things like this happen, it's pretty awesome."
For the Hill family, several months after the exciting Extreme Makeover 'reveal,' they were still in amazement. "I ran into them a couple of times and they were still sort of pinching themselves, continuing to get used to it," Kemper said. "This was just a terrific opportunity for all of us to help some very nice people with the perfect home."