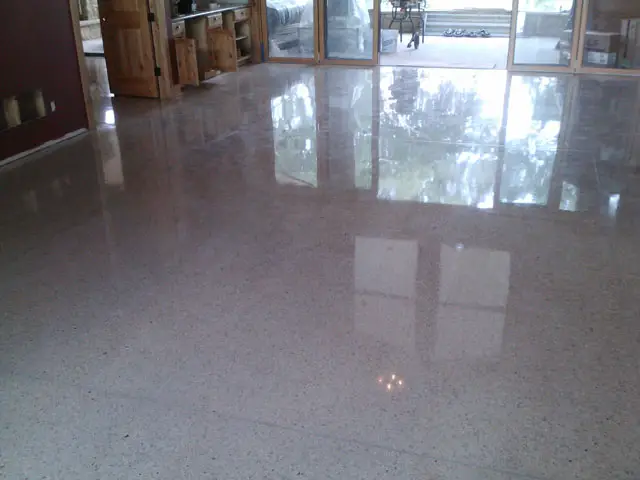 There are significant advantages to keeping a concrete floor highly polished other than just exposing its surface. A polished concrete floor can transform a gray, dirty exposed surface into an easy to clean brilliant, environmentally friendly showpiece.
Traditionally, a highly polished concrete floor has certain amenities that include:
Easy Maintenance
Simple to Clean
Elegant and Modern Appearance
Unbeatable Strength and Durability
Eco-Friendly
An Economical Solution
The Beauty of Concrete
Concrete has been the material of choice for some 7000 years. Much of the Roman Empire and its surrounding area including the Pantheon were all constructed out of high-grade concrete. Today, it is still recognized for its durability and strength. It is used in both residential and commercial properties as an ideal solution for all types of flooring products. It offers a no-wax solution while providing a high-gloss finish that lasts for years.
Because of that, it is not hard to imagine why many warehouses, retail stores and office facilities see the benefits of installing polished concrete flooring. This works as a significant alternative over other flooring materials including granite, linoleum, and tile, along with marble, and even coated concrete. It is simple to create a high luster floor that is easy to maintain through simple polishing.
Producing a high gloss finish through polishing requires a multi-step process. The business owner or homeowner can select from a variety of sheens that range from high gloss down to satin. It is easy to meet the maintenance requirements and aesthetic needs of the property owner. Its high versatility and ease of maintenance makes it an ideal solution for selecting the best foreign material that works well in numerous applications.
A Cost-Saving Solution
With recent advancements in new technology, business owners and homeowners are taking advantage of concrete flooring because of its many benefits. A polished concrete surface offers high performance and strong durability. It works well in a variety of industries including office facilities, warehouses, restaurants and retail stores along with residential properties.
Maintaining a polished concrete floor is extremely economical and cost affordable. Unlike other traditional flooring materials, a properly installed polished concrete floor has an extended life span of a decade or longer before requiring refinishing. Maintenance is minimal, which helps reduce the ongoing costs associated with extensive traffic and keeping the floors clean.
Polished concrete floors are visually striking. They can be installed in a variety of designs including exposed aggregate, or the look of a variety of natural stones, including flagstone, slate, marble or granite. It can also be modified using a variety of colors through dyes and stains.
Property owners can select from various degrees of shine and reflectivity. Nearly any type of concrete floor can have an installed polished finish, as long as it is structurally sound. Any new floor must be at least one month old before it can be polished. Existing floors might require specific surface preparation before a high polish can be installed.