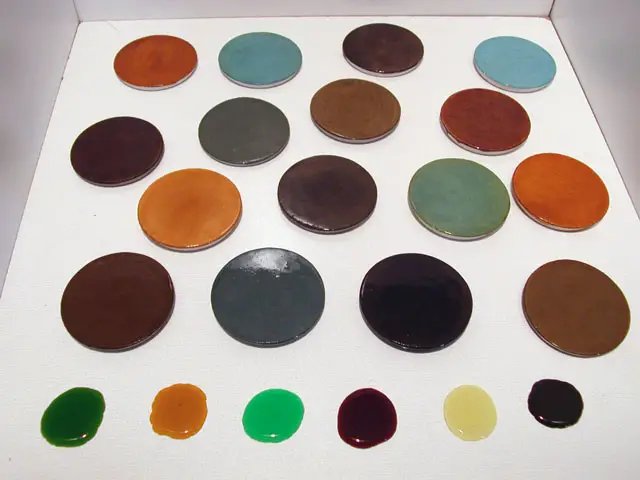 Also referred to as: chemical stain, acid stain, patina stain, acid wash, reactive stains, color etch, chroma stain etc.
Overview
Similar in their composition, various manufacturers offer "Acid Stain". A basic acid stain is comprised of metallic salts combined in an acid and water based solution.
When applied to a cement-based surface, the acid in the solution etches into the surface allowing for the metallic salts to penetrate in and react with the free lime deposits, or calcium hydroxide, in the cement. Water in the solution fuels the reaction creating colored compounds that become a permanent part of the concrete. The colors deposited create a mottled, naturally variegated pattern of color.
Chemical Acid Stains are generally available in variations of five basic color groups: Blacks, Browns, Oranges, Aged Copper & Greens – all of these shades are natural earthy mineral tones.
Introduction To Acid Stain Finishes
Many new homes, commercial spaces and retail outlets begin with large unfinished grey concrete slabs. Typical design and remodeling concepts end up covering the floor with wood, carpet, tile, etc. Modern trends have been spicing up existing concrete slabs using Acid Stains that provide a distinctive look to not only floors, but walls and other concrete surfaces as well.
Acid Stain as the name implies is an acidic staining or coloring solution, which chemically reacts with concrete and other cementitious substrates to create translucent and variegated color effects.
The basic ingredients of an Acid Stain are:
Water – fuel and a carrier for the color
Muriatic acid – generally a low percentage but enough to etch and penetrate into a cementitious surface to deeply deposit the color
Metallic salts – the color ingredient
When applied to a properly prepared substrate the coloration becomes a permanent part of the concrete and cannot crack, flake or peel, Acid Stains give a unique look that cannot be achieved with conventional polymer or pigment type stains and paints.
Acid Stains react differently with each individual substrate depending upon its available cement content, age, porosity and chemical makeup.
Considerable variations in color and tone resulting from the use of Acid Stains can be achieved through the use of different methods of application, dilutions and special techniques.