Concrete has come alive both indoors and out, thanks to a variety of dye and stain techniques used today to update this traditional material. Concrete staining is an excellent way to add color to an existing concrete surface or jazz up a brand new construction. As concrete contractors have become more adept at staining techniques, the choices have become much grander. Consider these three popular trends in concrete staining, and create a focal point in your outdoor landscape that you are sure to love.
Acid Stains
Acid staining is the most popular method used to tint concrete, due to the versatility and success of the technique. This process uses metallic salts in the stain to produce a chemical reaction with the lime content in the concrete. The result is a permanent color solution that becomes an intricate part of the concrete surface. Because acid staining can be a tricky process to control, it is best to hire the services of a concrete contractor that is experienced in this technique for your home project. Acid stains can be used equally well on outdoor walks, patios and driveways as they are on basement or garage flooring. In fact, acid staining has become a very popular way to update garages today because it is relatively inexpensive, permanent and highly effective.
Water-Based Stains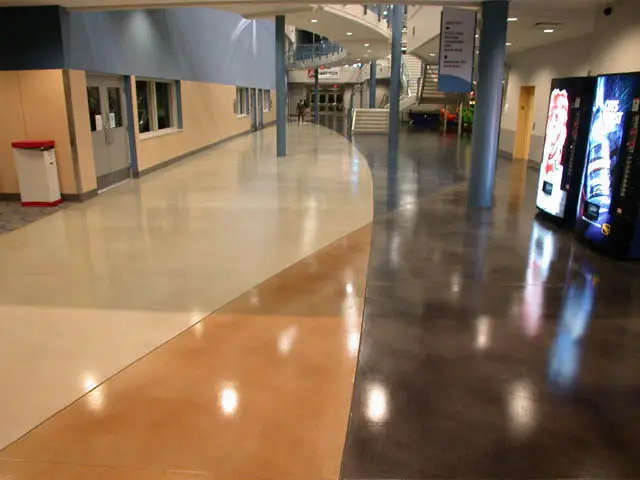 Water-based stains do not use a chemical reaction to get results. Instead, this process relies on the porous nature of the concrete to allow the stain to penetrate and create a rich hue throughout the surface. The advantages to water-based stains are that there is a wider range of color choices and the products are usually easier to apply than acid stains. However, the result is an opaque finish that more closely resembles paint than stain. If you want this more vibrant look, water-based stains can be the perfect choice to dress up a basement or garage floor.
Patterns in Staining

 Another popular trend in concrete staining today is to create patterns and designs within the concrete surface. This may be done by using a saw to create an intricate pattern in the concrete and then staining the various pieces in different shades to create a geometric design. This look can give a high end feel to office or home flooring, but it can also be an effective way to dress up a driveway or patio. You can also use items like leaves to cover the concrete around the stain and produce a stenciled effect on the surface. This technique is not hard to do and will create a customized look based on the homeowner's precise specifications. For special concrete staining techniques, find a professional who can get the job done right.
Concrete staining has become a popular method for breathing new life into old concrete surfaces. Whether you choose an acid or water-based stain, you can find a look that will coordinate well with your indoor décor or outdoor landscape. With amazing versatility and durability, it is easy to see why concrete staining is a popular technique for many home projects today.